Exit Fullscreeen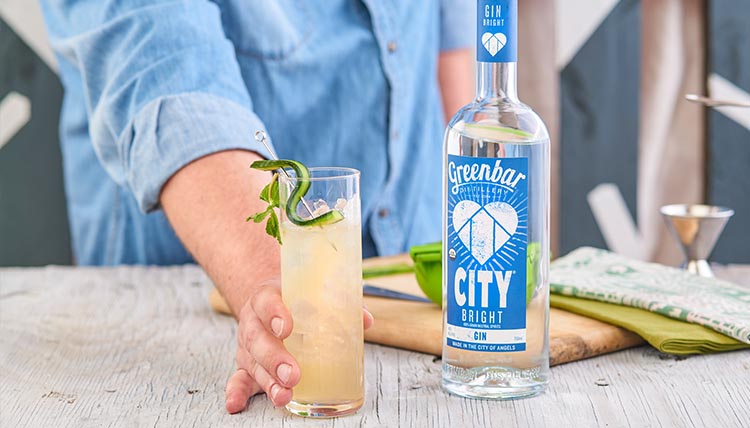 Medium
Minutes to make
3
PT3M
PT0M
BRIGHT GIN PRESSE
Want a light, breezy cocktail with hidden depths? Try this Bright Gin Presse.
Greenbar Bright gin is an expression of the myriad cuisines of Los Angeles. From the South American food trucks, to the strip mall Asian restaurants and the home-cooking by recent immigrants, Bright gin encompasses all these flavors plus ingredients that are abundant in our city like fresh peppercorns and citrus.
Pairing the gin's streetwise complexity with the suave flavor of cucumber, delivers a fun and balanced cocktail that's exceedingly easy to drink.
We recommend batching up an evening's worth of drinks, setting out some bowls of home-cooked seasoned cashews and brazil nuts, inviting your friends, and getting down to some serious gossip.
We'll even help you with the math:
Bright Gin Presse Batch for Six
9 oz Greenbar Bright Gin
6 oz Fresh Squeezed Lime Juice
6 oz Simple Syrup
1/2 Persian Cucumber, Sliced
Batched cocktails last for around 24 hours if refrigerated. When ready to serve; stir, pour over fresh ice and top with tonic.
Ingredients
1.5 oz

Greenbar Bright Gin

1 oz

Fresh Squeezed Lime Juice

1 oz

Simple Syrup

3 slices

Cucumber

1 oz

Tonic Water
Want a light, breezy cocktail with hidden depths? Try this Bright Gin Presse. Greenbar Bright gin is an expression of the myriad cuisines of Los Angeles. From the South American food trucks, to the strip mall Asian restaurants and the home-cooking by recent immigrants, Bright gin encompasses all these flavors plus ingredients that are abundant in our city like fresh peppercorns and citrus. Pairing the gin's streetwise complexity with the suave flavor of cucumber, delivers a fun and balanced cocktail that's exceedingly easy to drink. We recommend batching up an evening's worth of drinks, setting out some bowls of home-cooked seasoned cashews and brazil nuts, inviting your friends, and getting down to some serious gossip. We'll even help you with the math: Bright Gin Presse Batch for Six 9 oz Greenbar Bright Gin 6 oz Fresh Squeezed Lime Juice 6 oz Simple Syrup 1/2 Persian Cucumber, Sliced Batched cocktails last for around 24 hours if refrigerated. When ready to serve; stir, pour over fresh ice and top with tonic.

---

Some days you want a drink that's easy-sipping with a hint of complexity on the tongue. This is the drink for you! We think this gin mule is a perfect everyday cocktail. The Greenbar Bright gin is rich and flavorful, lingering a moment after you sip. The Greenbar Ginger liqueur is warm and zingy making it the perfect partner. Add as much fresh jalapeno as your tastebuds desire :) Pair with something tasty and satisfying: a doorstep sandwich packed with cheddar or Italian sausage.

---

Love an Old Fashioned? Mix things up and try our organic take on this old favorite. We've combined CITY Amber gin with FRUITLAB Orange liqueur to create a nuanced concoction that hits all the right spots! Serve with a wedge salad or deviled eggs. This mixed drink is the perfect accompaniment for complex yet light flavors.

---