Join Litty, Cory & Lisa As They Discuss California, Success & Cocktails
Friends are always welcome at Greenbar Distillery and we were delighted to say hi to Cory and Lisa from Dig The Kid this week. They got talking with co founder and master spiritsmaker, Litty about all the big and small moments that make up their 2018 plans. Somehow Success & Cocktails always go together at Greenbar Distillery!
Meanwhile, Dig The Kid drummer, mixologist, and all round musical powerhouse, Lisa Mongelli came up with a cocktail that suited the mood: a winter take on a classic G&T.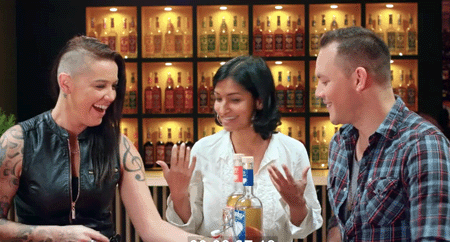 Litty Mathew: Let's kick off with a big, deep question. How do you define success?
Cory Todd: We wake up every morning feeling great, excited to get into the studio, excited to work on new songs. We do a lot of fun things with a lot of amazing people. Plus, being able to pop down to our distillery is kinda awesome!
Litty: Completely agree. Everyone here likes waking up and finding out what's next. Whether we're refining flavors, working on big orders, or just day to day activity… it makes me happy to see everyone at the distillery is usually smiling.
Cory: Absolutely, doing what makes you happy is our definition of success and, so long as we're having fun, we're happy. There are a lot of people who don't get to have this type of experience so we cherish this opportunity.
Litty: It comes across in your music…
Cory: Yes! We're called Dig The Kid for that reason. Kid's in the name: it sounds fun, it feels fun. Like finding your inner child and tapping into that. When we were younger we lived without boundaries. There were no rules, no restrictions. If you wanted to be creative you could. If you wanted to paint on the wall, you did (you got in trouble, but you could!). And we try to bring that back into the process of making music.
Lisa Mongelli: There have never been any boundaries with us. Music defines us but not in any specific genre. Dig The Kid can be pop one day and rock, calypso, reggae… it doesn't really matter, whatever we feel is what we write.
Litty: I love that because I think that's what resonated about Dig The Kid music so much for Melkon and me. We're the same way: we don't have to hold to one tradition and we feel that's what's great about being in California. You have carte blanche to try new things, explore what you think is creatively interesting. All with the idea that you just want to create the best. Tell me, how do you stay true to your vision?
Lisa: We're musicians deep in our bones but were in different bands when we started out. It turns out we both needed each other. By the time we started working together we were already friends and developed a great working style. It's our differences that make us stronger. Like Cory's voice and songwriting blow me away even today…
Cory: And I'm always impressed by Lisa's drive and leadership. There are honestly days where you don't want to get up in the morning, and you don't want to go and do it, and you're very curious about whether you made the right decision to even be in music. And she's like 'this is what we're doing, this where we're going. We'll make it happen and it's all going to be worth it!'. Lisa really keeps us on track and has kept Dig The Kid alive even in the darkest of times. She's also the business mind and makes the impossible happen.
Litty: And do you feel your roots in California ground you?
Lisa: We both grew up in California, and really paid our dues as musicians in and around Oakland, so living in Los Angeles can sometime feel like we're a long way from home. There are different tiers of California: NorCal, Central, and SoCal. It almost sounds ridiculous but, as Californians, we know how completely different they are culturally and geographically. I will say NorCal and SoCal do get along very well (except for sports!).
Cory: Somebody much wiser than me — my mom — told me 'it's easy to forget but most Californians are descendants of people who decided to make a move, whether it was a hundred years ago or forty years ago… they decided to come here, and those were the forward thinking people who wanted to do something different, who believed that there was something bigger out there for them.' From what you guys are doing with the distillery — real ingredients and organic spirits — to what we're doing with our band. It all comes from the California attitude. Not being afraid to try something new and take a chance.
Litty: You're right. California's a state of mind. It's really about freedom and a desire to explore new things. We might not face the same consequences as other parts of the country or the globe. Here we get to explore and, for the most part, people are like 'right on, go for it', and that really makes a world of difference. Greenbar Distillery couldn't be anywhere else but California.
Lisa: And it's also a dream… a destination. California is a symbol of free thinking. I used to live in Australia and the first thing someone would ask me, 'oh you're American, are you from California?' and I would answer of course I am.
Litty: I think that's why 'Love' is one of my favorite Dig The Kid songs. It's so upbeat and feels like it's about possibilities.
Lisa: Love and hearts – that works… 🙂
Litty: Yeah. You see a lot of hearts on our bottles; it's all about the love of place and what we do and our passion for each other. That translates into our love for where we live and ingredients/food and all of that good stuff…
Lisa: It's cool that you've put a different symbol on every label. Something we can all interpret ourselves. We all bring something of our own, just like when people listen to a song and come up with their own meaning.

Cory: I'll give you a little insight into 'Love'. It's not a song about anybody in particular. It's a song about our relationship to the concept of love. How love will draw us to do different things, break our hearts, yet in the end we will always go back because we're in love with being in love
Litty: Ha! So Love is definitely what people make of it. I guess that brings us to people. Are there any big fans out there that make a difference?
Lisa: Definitely. Some of our fans have become like family. This is a shout out to you: John Reilly. I was bartending back in San Francisco and John came in with his girlfriend. I didn't know him but we ended up chatting for 5-6 hours and really connecting so at the end of my shift I gave him my CD. We'd just recorded our first EP so I had all these CDs in my bag and, I didn't usually do this, but I gave him a CD. The next day he came in again. He told me his girlfriend 'made me to listen to this and I can't believe it's you. I can't believe you sound like this, every song is so good.' He would drive over an hour from Pleasanton to see me a few times a month. He started helping with the band, anything he could help with he would and now he's apart of our family of regulars.
Litty: I've got to say, having those kind of fans makes a world of difference, right? Sometimes we feel like we work in a vacuum, without having someone out there appreciate the effort we make or understand what we're about. It's true for us too when we make products, we're not making these just for ourselves … we like to drink too, but we're making it so that other people can enjoy it and that's also the thing about music…
Cory: We realized even with being in a band and playing music, you will always find us with an entourage of people, and part of it's because we need those people to share in all this fun stuff that we're doing too, and they keep us grounded no matter what.
Litty: I love that you guys have an entourage, I need one… will you be part of my entourage? Thanks for stopping in Lisa and Cory. Love the CITY Bright G&T! We'll see you again for a drink real soon!